http://jamarattigan.com/2013/05/22/truck-stop-giveaway-and-mini-blueberry-muffins/
Reblogged from The Hungry Artist:
Don't miss your chance to win a signed copy of TRUCK STOP! And these mini blueberry muffins look so yummy. :)
(Taken in early June -- a typical June -- 6 years ago...)
(Taken during a lovely May 4 years ago...)
(Taken during a very hot May 2 years ago...)

Today is also the last day of my life as the mother of an elementary school student, because next year my son starts junior high. Five years from now, we'll be celebrating our daughter's graduation from high school. Six years from now, our son's.

I know I will always be a mother. But it sort of feels like I only have six years left of being a mom. Which is, now that I think about it - I mean, *really* think about it - kind of heartbreaking. And also really strange... 0.o
Today is the last day of school.
Originally published at Kimberly Sabatini. You can comment here or there.
Yesterday (5/21/13) was my 3rd Runniversary!!! Every year, whether you want to hear it or not, you're subjected to my annual running stats. And if you're really a glutton for punishment, the other posts are here…Runniversary and 2nd Runniversary.
But here are the stats:
In the last three years I have gone on 181 runs with and average of 4.5 miles.
I've covered 832.27 miles and I've spent 137.31 hours of the last three years running.
I've burnt 83,171 calories, which doesn't even put a dent in my chocolate consumption LOL!
My average pace was 9.55 minutes a mile.
And this year (May 21st to May 21st) I ran 261.07 miles.
And this is my favorite place to run. It makes me feel like a bird.
Do you have any anniversaries coming up? I also have another one. A really big one. Check it out on a special post on Thursday.
Over the weekend a few of my friends from the gym and I did a mud run together. A mud run is typically a 5k run broken up with several different obstacles and/or barriers, many through mud. I'd never done one before so when one of the girls asked me back in March it seemed like a good idea...and really far in the future. May 18th came pretty fast!

Unlike some of the more hardcore mud runs, this was a "girls only" race and the obstacles were fun rather than super-challenging. Example: some of our counterparts were doing the Warrior Dash across town that day and while they were slogging through chest-deep water filled with ice cubes and running the gauntlet through dozens of live wires (!), we were sliding down giant inflatable slides and climbing over 12' walls that had footholds. Clearly we picked the better race.

We were truly a motley crew. For one of the girls, this was her first ever race of any kind. When she started CrossFit she was overweight and her fitness level was pretty low. Now, several months later, she is lighter, stronger, and a total go-getter. Another friend is one that I've run a couple of regular 5k's with. She's a regular runner so it's nice to race with her because I have to try and keep up (which I never do). Another friend is my regular weightlifting partner and the perfect sarcastic yin to my equally sarcastic yang. The last friend truly cracks me up. She is stronger than she ever lets on and has arms that look like steel cables, but she likes to low-ball it whenever she can. I was pretty surprised when she said "yes" to doing this race, but in true form, when we got together that morning she declared that she would run alongside us but would NOT be getting dirty. This worked out pretty well because then we had a designated carrier for the bag that held all of the stuff we were too scared to check - like our phones and ID's.
Between you and me, I think our team as a whole was way too jaded for an event like this. Other groups were in colorful tutus and matching socks - we were in all black - half by pure chance and half by pure nature. Other groups were squealing and cheering and high-fiving one another - we were already discussing where we'd eat lunch when it was all over. Other groups got totally into the group warm-up - we stood around grousing about how they should just yell "Start!" already! It was the Sisterhood of the Grumbling Rants.

Two seconds into the race there was a huge mud pit. We all agreed that was too much too soon, so while the other ladies gleefully slogged through the muck, we minced our way around it. A few yards later was an obstacle that required you to go under a tarp, climb through a dark, muddy tunnel and emerge on the other side. "No way," we all concurred. A quarter of the race down and we were all still squeaky clean.

The race itself was staged on a racecourse that typically runs horses, so a few of the running legs of the race involved threading through the back alleys of horse stalls and equipment storage; so while hoards of women streaked past us in all their sodden glory, we took time out for pictures like this: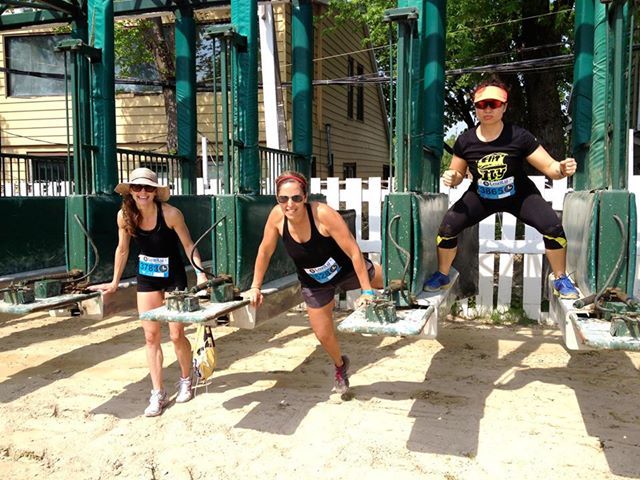 Check out my friend on the left -- the designated bag carrier. I was in stitches because on the occasions when she did run, with her stylishly floppy hat and bag in hand, she looked exactly like a tourist running to catch a bus to the Mayan ruins. Either than or like someone who just stole a purse off a poolside deck chair. At the 3/4 point of the race we found ourselves practically next to the parking lot and that's where she handed over the bag and said, "I'm done." Hysterically, she just kept running like she was in the race, but merely hopped the barrier and continued on. The security guys kind of scratched their heads as they watched her bail out, but just like that she was back to her car and off to enjoy the rest of her day.

At one point a friend and I decided to go along with the spirit of the race and climb up the gigantic inflatable slide. It looked just like one of those that you rent for a kids' party so we figured it would be no big deal. It wasn't until we were at the very top - the point of no return - that we realized there was a gigantic muddy puddle at the bottom. Oops. With nowhere to go but down, we sucked it up and slid. Thankfully it was more wet than muddy, but we were soggy just the same.

The one thing I did realize during this race is that I'm really good at climbing stuff and getting through obstacles. I have no idea how, when or where this skill will ever come in handy, but I can get to the top of a rope web, through a bungee maze, across a rickety balance beam and over a wooden wall like nobody's business. I'm pretty sure that I could even dominate that wobbly ladder game at Six Flags. Giant stuffed animal, here I come!

Towards the end, when I started realizing how squeaky clean we all looked in comparison to our race mates, I did feel kind of like a spoilsport, so my water slide friend and I sucked it up and mucked it up. The last obstacle before the finish line was a gigantic mud swamp. The idea was that you were supposed to army crawl through the whole thing, but my friend and I decided that walkingthrough was good enough for us.

As we approached the mud a group of girls who had already finished stood there and tried to goad us into getting dirty. "You're too clean!" they yelled. "Get in there and get dirty," they encouraged. "Don't wimp out!" they screamed. "They" were a group of girls no more than 15 years old. Pffft. Let's see if they're all that enthusiastic about mud when they are in charge of doing the laundry, Even though we thought that walking through the mud would be better than crawling, we didn't anticipate the fact that the pit was dug with deceptively deep holes intermittently throughout. One minute you were ankle deep on firm ground and the next, you were up to your crotch in muck and desperately trying to keep hold of your shoe while you extracted your foot from what felt like the hose of a muddy Hoover vacuum.

Here's me discovering one of those four-foot holes and praying that a plastic bunting would be enough to hold me up!




We made it out...just muddy enough.

Current Mood:

dirty
Yesterday, while I was talking about books and writing with an amazing group of 4th and 5th graders in Western New York, another group of elementary school students took shelter in their school, clinging to walls, huddling in the protective arms of their teachers as a tornado swept through their city. Later on, I saw the rescue crews on the news, and my heart ached for all of those families.
I spent time in the Oklahoma City area when I was researching my weather thriller, Eye of the Storm, and the people were so welcoming and wonderful. Those of us who weren't in the storm's path may be in a position to help now. So here's a chance to do that.
Instead of pulling together an auction like we did to benefit the SuperStorm Sandy KidLitCares relief effort, I thought we'd try something faster, because Oklahoma needs help right now, given the magnitude of damage from this week's EF5 tornado. Please consider making a donation to the American Red Cross Disaster Relief Effort now. If you donate at least $10, I'll enter you in a drawing to win a signed book.
I'm donating some of my books, and some other authors are doing the same – not because a book giveaway is the real reason to make this donation but because it's a way for the children's literature community to promote the effort and say thanks to those who decide to donate. I'm hoping that we can also donate signed books to the library system that serves families affected by the tornado, either to add to their collections or to distribute to displaced families. More on that when things settle down some…but here's the KidLitCares Donation Drive information.
To be entered in the KidLitCares for Oklahoma Book Giveaway:
Click here and make a donation of at least $10 for  American Red Cross Disaster Relief. Ideally, you'll do this now. Like, right now. But if you want to be entered for the book drawing, be sure to do it before 12pm EST on June 7th.  I'll enter your name in the drawing once for each $10 you donate. So a $50 donation equals five chances to win.
You'll receive an email receipt from the Red Cross.  Forward that receipt to kidlitcares@gmail.com, and you'll automatically be entered in the drawing for one of our donated signed books!  You can see an ever-updating list of donated signed books below!
On June 7th, I'll draw names for as many books as we have donated. I'll contact you via email if you win so that you can provide a mailing address for the author to mail your signed book. Because our authors are donating postage, books can be mailed to US addresses only. (Sorry!) Again – the deadline is 12pm EST on June 7th.
***NEWSFLASH 5/22 2pm : We've just had a MEGA-DONATION FOR A GRAND-PRIZE GIVEAWAY!!
One of my amazing publishers, Chronicle Books, has just donated TWO great big prize packages for KidLitCares for Oklahoma Red Cross donors. One is a collection of great Chronicle YA titles, and the other is a spectacular picture book package. So here's what we're going to do…
Whoever makes the LARGEST Red Cross donation via KidLitCares before noon EST on June 7th will get to choose one of these two packages as a thank you gift.  The other package will be given to one of our $10 or more donors, chosen in a random drawing. That way, there's incentive to give BIG if you can – as well as incentive to give whatever you can, even if your heart is bigger than your wallet.
  Check out these great titles…
Chronicle Books YA KidLit Cares Thank You Package
PRISONERS IN THE PALACE by Michaela MacCollGIRL MEETS BOY by Kelly Milner HallsTHE SPACE BETWEEN TREES by Katie WilliamsTHE ORPHAN OF AWKWARD FALLS by Keith Graves 
Chronicle Books PICTURE BOOKS KidLit Cares Thank You Package
HIS SHOES WERE FAR TOO TIGHT by Daniel Pinkwater and Calef BrownWUMBERS by Amy Krouse Rosenthal and Tom LichtenheldBEARS! BEARS! BEARS!  by Bob BarnerIT'S A TIGER by David LaRochelle and Jeremy TankardAN EGG IS QUIET by Dianna Aston and Sylvia LongDUCK! RABBIT! by Amy Krouse Rosenthal and Tom LichtenheldFLORA AND THE FLAMINGO by Molly IdleCHLOE INSTEAD by Micah Player 
Authors: If you'd like to donate a signed book as a Donation Drive Giveaway, please email kidlitcares@gmail.com and I'll send you a link to the donation page.  Thanks!
Agents and Editors: If you'd like to donate a signed book by one of your authors or clients, that's great, too. Email kidlitcares@gmail.com and I'll send you that link, too.
Readers: Please help us spread the word about KidLitCares for Oklahoma by sharing this link on Twitter, Facebook and wherever else you have friends!
http://www.katemessner.com/lets-help-kidlitcares-for-oklahoma/
Here's the list of books that have already been donated and will be given away on June 7th…

(It will grow…and I will try my best to keep up with it…please be patient! New books will be added daily.)
HIDE AND SEEK by Kate Messner
WAKE UP MISSING by Kate Messner
THE REINVENTION OF EDISON THOMAS by Jacqueline Houtman
SIRENS by Janet Fox
BIGGER THAN A BREADBOX by Laurel Snyder
PASSING THE MUSIC DOWN by Sarah Sullivan
SMALL MEDIUM AT LARGE by Joanne Levy
1 ZANY ZOO by Lori Degman
THE GENTLEMAN BUG by Julian Hector
TRADING FACES by Julie DeVillers and Jennifer Roy
BEDEVILED: DADDY'S LITTLE ANGEL by Shani Petroff
HOUNDS: LOYAL HUNTING COMPANIONS by Becky Levine
THE SINISTER SWEETNESS OF SPLENDID ACADEMY by Nikki Loftin
SPLISH SPLASH! by Naomi Davis
COUNTING ON GRACE by Elizabeth Winthrop
THE GOLLYWHOPPER GAMES by Jody Feldman
PRINCESS OF THE WILD SWANS by Diane Zahler
FLUTTER by Gina Linko
WHERE DO DIGGERS SLEEP AT NIGHT by Brianna Caplan Sayres
THE WIG IN THE WINDOW by Kristen Kittscher (will be sent in August!)
I DARE YOU NOT TO YAWN! by Helene Boudreau
THE CENTER OF EVERYTHING by Linda Urban
SEE YOU AT HARRY'S by Jo Knowles
CANARY IN THE COAL MINE by Madelyn Rosenbert
NO SAFETY IN NUMBERS by Dayna Lorentz
HOPE IN PATIENCE by Beth Fehlbaum
COWBOY CAMP by Tammi Sauer
THE 12 DAYS OF CHRISTMAS IN OKLAHOMA by Tammi Sauer
NUGGET AND FANG by Tammi Sauer
THE WATER CASTLE by Megan Frazer Blakemore
ONE FOR THE MURPHYS by Linda Mullaly Hunt
WANT TO GO PRIVATE by Sarah Darer Littman
LIFE, AFTER by Sarah Darer Littman
CHICKEN SOUP FOR THE SOUL: THE POWER OF POSITIVE by Sarah Darer Littman
THE UNQUIET by Jeannine Garsee
SAY THE WORD by Jeannine Garsee
BEYOND LUCKY by Sarah Aronson
I'M BORED by Debbie Ridpath Ohi
THOUSAND WORDS by Jennifer Brown
MADHATTAN MYSTERY by John J. Bonk
THE FLINT HEART by Katherine Paterson (signed by Katherine Paterson & John Rocco, donated by Anne Moore)
TEACH YOUR BUFFALO TO PLAY DRUMS by Audrey Vernick
THE UNIVERSE OF FAIR by Leslie Bulion
BROTHERS AT BAT: THE TRUE STORY OF AN AMAZING ALL-BROTHER BASEBALL TEAM  by Audrey Vernick
SCARS by Cheryl Rainfield
STAINED (ARC) by Cheryl Rainfield
PHANTOM STALLION: THE WILD ONE by Terri Farley
THE CAMPING TRIP THAT CHANGED AMERICA by Barb Rosenstock
FEARLESS by Barb Rosenstock
THE SWEETEST THING by Christina Mandelski
BOY + BOT by Ame Dyckman
THE MAPMAKER AND THE GHOST by Sarvenaz Tash
NEVER EIGHTEEN by Megan Bostic
MELONHEAD AND THE BIG STINK by Katy Kelly
FOREST HAS A SONG by Amy Ludwig Vanderwater
COMPLETE set of CHARLIE JOE JACKSON book!! by Tommy Greenwald
THE SMALL ADVENTURES OF POPEYE AND ELVIS by Barbara O'Connor
ETERNAL by Cynthia Leitich Smith
CHRONAL ENGINE by Greg Leitich Smith
DOUBLE VISION by F.T. Bradley
BOOKS 1-3 in the JAGUAR STONES series by J and P Voelkel
.
We took a flight from Lima to Cusco, then a taxi to Huaran, a tiny hamlet in the Sacred Valley. Our accommodations were at the Green House, the best B&B I have ever stayed in.
http://www.thegreenhouseperu.com
Hosts Bryan (from Liverpool) and Gabriel (Buenos Aires) are funny, friendly, and gracious. Just one of many examples of their helpfulness: For our day trip to Machu Picchu, we had to catch a very early train. No time for breakfast. Bryan was up to see us off--with a bag containing a picnic breakfast of sandwiches, fruit, and cookies for us to eat on the train!
Julia and I are both dog lovers, so we were delighted by the three house dogs Paco (aka Puppy), Yana, and Laika. Laika takes special responsibility for the guests, cuddling whenever invited to, and taking them for a lovely walk to a nearby waterfall.
You can opt to have dinner at the Green House, cooked by Gabriel, and we did this three out of the four nights. Our menus:
Wednesday:
--sweet potato soup
--Green House beef stew over mashed potatoes
--apple crumble with ice cream
Thursday
--individual broccoli quiches
--Green House spinach cannelloni
--chilled lemon mousse
Saturday
--guacamole with tequenos (crisp rolled pastries stuffed with cheese)
--trout over a potato mille-feuille topped with salad
--chocolate brownie and ice cream
Nothing too fancy--home food instead of restaurant food--and every dish was delicious.
The stunning view from our room at the Green House. Only four rooms total. The village of Huaran consists of a school and three tiny shops. (If you want shopping and night life, this is *definitely* not the place for you.)
Regular visitors to this blog know that I don't usually spend this much time describing my accommodations. But the Green House is special. I don't expect I'll ever stay in a more peaceful and pleasant place anywhere in the world.
Laika leads the way...
...past the rainbow...
...to the waterfall...
Julia gets into the Green House groove.
Friday, May 17: Machu Picchu
Okay, so everyone takes millions of photos at Machu Picchu--you can't help it. But even the best photos cannot convey the essence of the place. Those below are just to prove that We Were There.
Except for a few brief breaks in the cloud cover, it rained almost the entire time we were in Machu Picchu. Didn't matter. In the morning there were a couple thousand other people there. Didn't matter. The high altitude and hundreds of stairs had me puffing so hard I almost saw stars. None of it mattered: Machu Picchu is truly wondrous in a way that's impossible to put into words, even for someone like me who likes to put almost everything into words. We stayed until late in the afternoon, when the place emptied out almost completely, and it was even more magical then.
There's still more to our trip (including a really fun horseback ride and a perfect final meal in Lima), but enough for now. I've been home for twenty-four hours and am still smiling.
The Sacred Valley and Machu Picchu, May 15-19
Julia Durango
, who traveled with me: Julia speaks fluent Spanish, and if it hadn't been for her, I'd *still* be in the wrong taxi.... Many of the photos below were taken by her (JD).
May 11-14, in Lima:
At Huanca Pucllana archeological site. (JD)
In the Pueblo Libre neighborhood at the Museo Larco: saying hello to the resident Peruvian hairless dog amid lush display of bougainvillea. (JD)
Whenever I'm traveling abroad and staying in hotels, I always have at least one impassioned "wish I had a kitchen!" moment. This was it for me in Peru: The local supermarket sold beautiful small scallops on the half shell with the roe attached. (JD)
At Colegio Roosevelt:
With John Kurtenbach and Julia. (I think Tina took this photo?--Thanks, Tina!)
With library assistant Tina Raventos and elementary librarian Michelle Roberts. And Knuffle Bunny.
With the Simpsons. (Papier mache heads display in the elementary library. Thanks again to Tina for taking the photo.)
With the students from the Korean club, who helped organize my evening presentation to the school's Korean community. Two of the students did simultaneous translation of my remarks--not an easy job! (JD)
Delicious stir-fry of flounder and veg at Chez Wong, a quirky little restaurant in Lima. No menu: First course is flounder ceviche, with or without octopus (we had it with), followed by the flounder stir-fry, and then another flounder stir-fry with homemade black-bean sauce. Very simple food and very delicious.
At Amaz restaurant, specializing in dishes made with ingredients from the Amazon region, several entrees were wrapped and steamed in bijao leaves. This is my hearts of palm and chicken, which was interesting and tasty; Julia's fish dish was even better.
The Dunkin Donuts in Lima airport: a donut called Delirium.
Our wonderful stay in Lima was due to the efforts of John Kurtenbach, Lisa Gore, Michelle Roberts, Tina Raventos, and all the library staff at Colegio Roosevelt. Thanks also to the teachers who used our books with their students, and most of all, to the TERRIFIC STUDENTS who read our books and were such enthusiastic audiences!
Next entry: Part II, the Sacred Valley and Machu Picchu
Home after a wonderful trip. Extra special thanks to author
Oklahoma in my heart, on my mind
Oklahoma state flower, via Planetworks.com
Tragedies bring us closer together, it's said, and I believe that's true. Riveted to our TV screens and Twitter at first, we climb through the rubble until our hearts crack open and our minds shut down, so wholly unequipped are we to compre
hend the things we've witnessed. So we seek refuge, here and elsewhere, bound together by the braided cords of anguish and hope. It is on this precarious ledge that we tell our stories, turn over in our hands like treasures the things we've salvaged, mourn the depth of our losses and celebrate the legacies that endure.

Holding
Oklahoma
in my thoughts and prayers...