http://jamarattigan.com/2013/05/17/friday-feast-hawaiis-food-trucks-on-the-go-by-beth-greenway-and-jamie-meckel-tablason/
http://jamarattigan.com/?p=9621
When I was little, every so often my father would take us for a drive around the island. This was an all-day affair, where we'd see what we could see and eat what we could eat all over O'ahu.
I loved spotting the lunch wagons parked along the Honolulu waterfront, hoping to feast on an onolicious plate lunch with beef stew, teriyaki, or breaded mahimahi. No matter what you ordered, you always got two scoops of rice and macaroni salad. But usually we'd drive right on by because it wasn't lunch time yet. This only intensified my fascination with lunch wagons: I thought it would be so cool to cook on a little stove in a truck and wait on people through the window on the side.

I don't know exactly when people in Hawai'i started calling lunch wagons, "food trucks." But they're still a big part of the local scene, enticing the always hungry on side streets and main streets with longstanding island favorites as well as gourmet treats.
In jaunty rhyming verse, Beth Greenway's Hawai'i's Food Trucks on the Go! takes kids on a fun and tasty ride around the island from sunrise to sunset.
The trucks all rev their engines up
and head out on their way:
it's time to feed the working cars
this bright Hawaiian day.
The Harbor's where the cranes all work
unloading boats and ships,
a bowl of saimin's great for lunch
just right for slurps and sips.
Each cheerfully decorated truck serves up a different specialty on its designated turf: Kim's Korean BBQ downtown, saimin at the harbor, Spam® Musubi at the North Shore, poi in Waikiki, poke at Ewa Beach and laulau in Kapolei.
The North Shore surfers like to munch
on musubi with Spam®,
another food truck, Yuko, cooks
fried rice with bits of ham.
Kahuku's shrimp is number one
the locals all agree,
the trucks roll up and park between
the mountains and the sea.
This mouthwatering traveling menu celebrates Hawai'i's rich cultural diversity, as Ms. Greenway incorporates Hawaiian place names and food terms from several languages in her rhyming couplets. What could be more fun to read aloud than chewy mouthfuls of rolling-like-the-waves syllables — malasadas, manapua, Waimanalo?
There's Manuel's malasadas, yum,
served any time of day,
and Kimo's manapua truck
past Waimanalo Bay.
Tablason's trucks, cars, and boats are colorful, charming, and brimming with personality. Each truck is proud of its offerings and so happy to share. At the end of the day, all the food trucks meet downtown to "party down," reminding us that after a hard day's work, it feels good to meet friends, relax and play.
Certainly all my childhood favorites are mentioned in this book, so I know local kids will drool in recognition. Munchkins who've never been to Hawai'i will enjoy this first taste and tour of the city streets, mountains and beaches. Young ears will love the musicality of the Hawaiian language and of course will be very curious to try some of the food. Who wouldn't like a deep-fried Portuguese doughnut, a steamy bowl of noodles, a soft bun full of sweet roast pork, a hot dog baked inside a waffle, a refreshing cone of finely shaved ice drenched in strawberry, pineapple, and coconut syrup?
Hawai'i's Food Trucks on the Go! introduces young readers to a much beloved island tradition rooted in the old days at Honolulu Harbor when pushcart peddlers sold soft drinks, snacks, and plate lunches to stevedores, sailors, cruise ship passengers, and laborers passing through the immigration station. Busy people from all over the world united by their love of food!
Whether from pushcart, lunch wagon, or food truck, there's nothing like the personalized experience of eating something yummy in the warm Hawaiian sunshine, purchased from a small vendor while you're on the go.
Now, step up to my window, reach through your computer screen, and help yourself to some local favorites:
* * *
HAWAI'I'S FOOD TRUCKS ON THE GO!
written by Beth Greenway
illustrated by Jamie Meckel Tablason
published by BeachHouse Publishing, 2012.
Picture Book for ages 4-8, 32 pp.
Cool themes: Hawai'i, food, diversity, travel, vehicles.
A perfect share for Asian Pacific American Heritage Month!

* * *
Ed DeCaria is hosting today's Poetry Friday Roundup at Think, Kid, Think! Truck on over and sample all the poetic goodness being served up in the blogosphere this week!
* * *
This post is also being linked to Beth Fish Read's Weekend Cooking, where all are invited to share their food related posts. Put on your bibs and aprons, and come join the fun!
————————————————
*Spreads from Hawai'i's Food Trucks on the Go! posted by permission of the publisher, text copyright © 2012 Beth Greenway, illustrations © 2012 Jamie Meckel Tablason, published by BeachHouse Publishing. All rights reserved.
Copyright © 2013 Jama Rattigan of Jama's Alphabet Soup. All rights reserved.
Dear Ms. Creech,
This is a thank you note mixed with a confession. Read on, and you'll understand.
First, I have to say that I loved your talk at the New England SCBWI Conference and was thrilled to finally meet you in person.
So thank you for that. But that's only part of the thank you.  Before I get to the rest, I have to do the confession part.
So…you know that poem you have on your website? The one that explains to teachers why you can't accept any more invitations for school visits this year?  It starts like this:
My phone is ringing

and the fax is going
and sometimes I am sick

(I hope you are not sick!)
and my car needs fixing

and I have to go
to the grocery store
and do the laundry

and clean up messes
and I am supposed to be
writing a new book
which takes a lot of time
to think about and
to write all those little words… 
(The rest of Sharon's why-I-can't-visit poem  is here,  for those of you who are not Sharon and don't know how it goes.)
You might not remember this, but a whole bunch of years ago – maybe nine or ten – you got an email from a teacher begging you to requesting that you consider making an exception to your no-more-school-visits-this-year policy.  It was written as a poem, too, because she thought you might like that, and she figured it was worth a try.  She doesn't have that exact poem any more, but it went something like this.
We know that you are busyAnswering your phoneAnd buying foodand doing laundryand sneezing(Bless you)And writing books we adore..But we love-love-love those books so muchAnd wondered if you might sneak awayTo visit us anyway.It would just be for a day,And then you could go backTo your grocery-shoppingLaundry-doing, phone answering, sneezing life(Bless you)To write more magical storiesFor us all to love. 
That teacher figured it was a long shot. (She used to be a reporter and understood all about deadlines.) But your poem inspired her poem, just like that, and before she knew it, she'd gone and hit the send button.
Your schedule was too busy to visit.  (She figured it would be.) But you made time to write back. You told her you loved her poem, that it made you smile.
And that made her whole teacher-day.
That teacher was me.
And that explains why I had to sit down when you tweeted this picture last week, saying you found your book in good company at the bookstore.  There's your book on the left, and beside it, Grace Lin's book, and then mine. Roald Dahl and Karen Cushman are there, too, just for good measure.
Thanks for making my day.   Again.
.


2. This weekend is crazy-busy...but it should be the last one this bad for a while (maybe until August, when school stuff begins again). We have (including tonight) 6 'events' going on this weekend -- ack!

3. My work is mostly over for the next two weeks -- yay! I've been thinking about various issues with my revision, so I'm hoping I'll actually have time to work through them (on paper). The challenge comes because DH also works from home part of the time, and I have a hard time writing when he's in the office too (he talks to his computer while he works -- and sometimes that talking turns to muttered curses -- plus, he listens to heavy metal, which isn't my favorite). I have a laptop, though, so I'm thinking I need to take that somewhere and work that way...plus, then I'd feel less confined. That might be the ticket (though I love our home office when DH isn't around, heh).

4. One of our 'events' this weekend is the final game for D's flag football. I'm relieved it's over, though I do think it was a mostly good experience for D. But a couple of the boys on his team are so unathletic that it's almost painful to watch them out there. I'm helping the coach with their certificates, and we're struggling to come up with a positive, sporty term for one of those, especially -- what do you say about someone who truly has no athletic ability?? I want to use the word 'heartfelt,' but the coach really wants something related to sports... Of course, D is getting the award for 'Best All-Around Player,' so he'll be happy. :)

5. Both my kiddos have colds right now. I think D's came from his allergies (which flared up again as soon as the snow melted). Poor E, though, has one of those annoying coughs that won't stop. She *hates* being sick (doesn't everyone?), and she spends her time sighing dramatically (which is kind of funny) when she's not coughing.

Well, I need to get busy with stuff -- happy Friday! Anything fun planned for your weekend?
1. The Volunteer Tea was this morning at school. It's always a pleasant chance to catch up with other parents (who I see often, anyway, as we're always at school together volunteering, heh). Our principal also gave me a special gift -- she's a lovely person, and I'm really thrilled that she's come to our school. :)
Which should tell you something.

My house eats things. It's the ONLY explanation. I mean, how can my earbuds have disappeared when I never take them out of the room? I'd have Eli's stomach X-rayed if I suspected him, but he by far prefers money and paper napkins.

Oh, and I'd sure like to know what happened to my iPod connector.

And my brown Birkie sandals.

My favorite hoody.

A bottle of onion flakes.

My union contract.

Eli's new rabies tag.

A box of Keurig coffee I was going to take to work.

My brain?
Current Mood:

discontent
Monday was Kellan's 6th birthday. (I still have to write his birthday letter...AND his sisters' - GAH!)

He has been incredibly excited about becoming six, although I'm not so excited about my "baby" getting one year older. He told me the night before that he was going to get up "super early" to open his presents and he made good on his promise.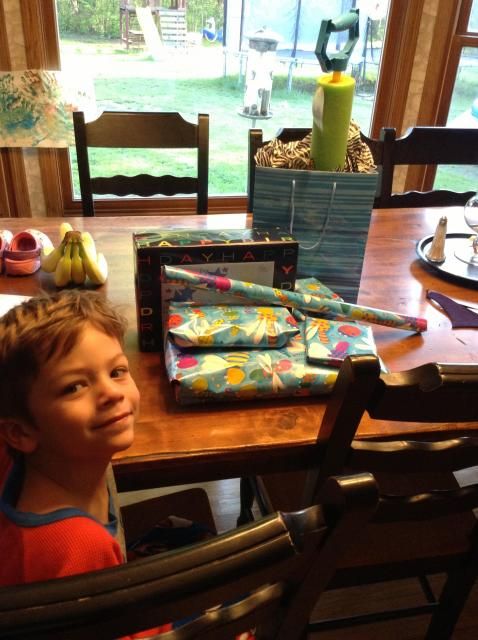 The girls and I had gone shopping the day before for some of his gifts. While my older boys are fantastic "present receivers", my girls are actually very gracious "present givers", especially Eliza. She was very insistent on spending her own money which is A-OK by me! She and Larissa bought him a Super Mario poster for his room, a water squirter, gummy candy, and bubbles.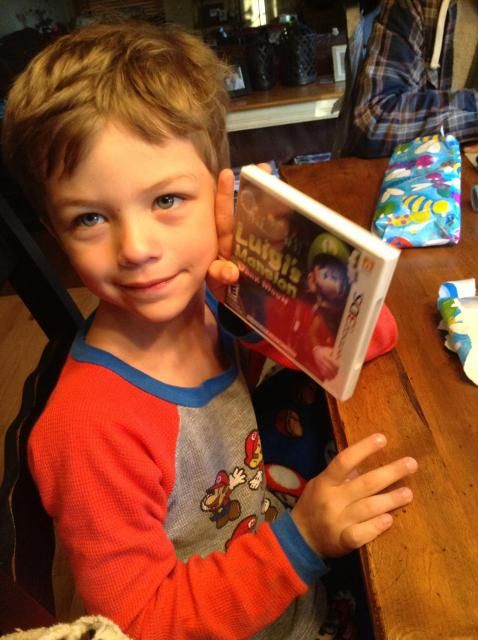 Kellan has been asking for this Nintendo game for-EVER. It was the #1 thing on his list. He's a video game freak like his brothers.

His favorite animal is the giraffe, so when he spotted this beach towel at TJ Maxx several weeks ago he wanted to buy it on the spot. Miraculously I remembered and managed to go back and buy it AND remember that I had it stashed in my closet. I hate to buy presents ahead of time because I always forget about them.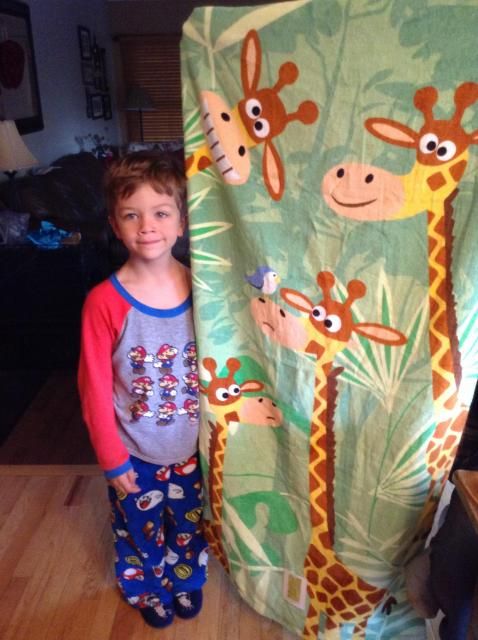 Kellan found these pj's in a box of hand-me-downs from his brothers and insists on wearing them even though they are two sizes too big. His love for Mario is strong!

That evening Weston had a baseball game, so we squeezed a birthday dinner into the one hour we had between school bus drop off and the first pitch. At school that day he received a birthday book from the principal and generally got the royal treatment (including a crown) from his teacher and classmates. He also handed out bubbles as his treat which made him very popular.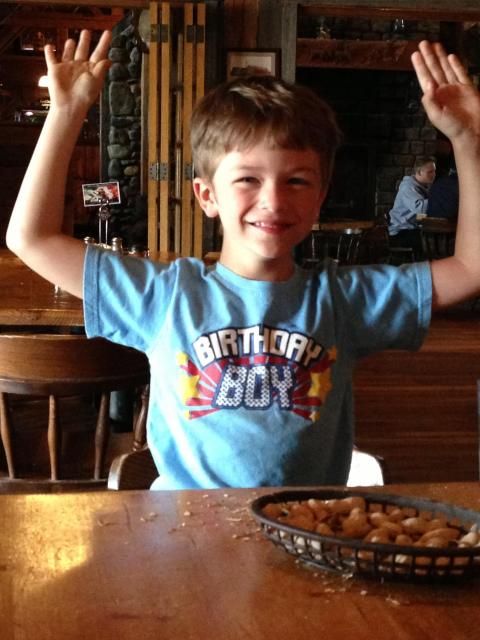 This is a pizza joint in town where they serve peanuts and you can throw the shells on the floor - quite a captivating concept when you're a kid. Me? I feel instant anxiety wondering how on Earth they manage to get that floor sparkling clean at the end of every night.

By the time we got home from Weston's game it was almost 9:00 but Kellan wasn't about to break tradition and wait until the next day for his birthday cake. In our house, when it's your birthday you get to pick the kind of cake you want and I will make it. (So far no one has picked up that tradition when it's MY birthday!) Kellan threw me a curve ball and asked for a "S'Mores Cake". Thank goodness for the internet - and a little improvisation.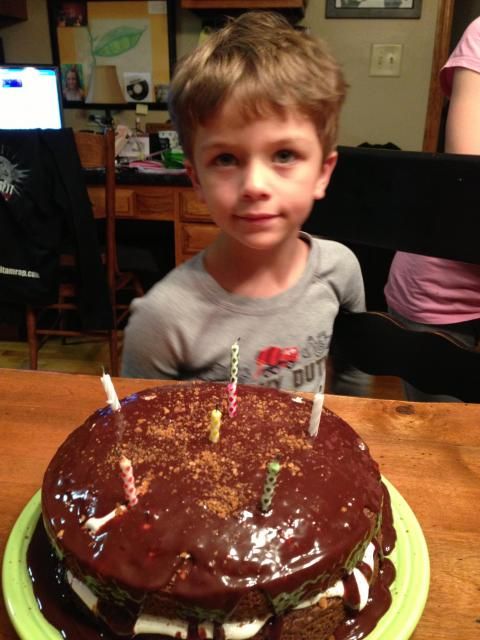 I think it's the first time I've made a kid's birthday cake that called for "ganache". We're very fancy around here.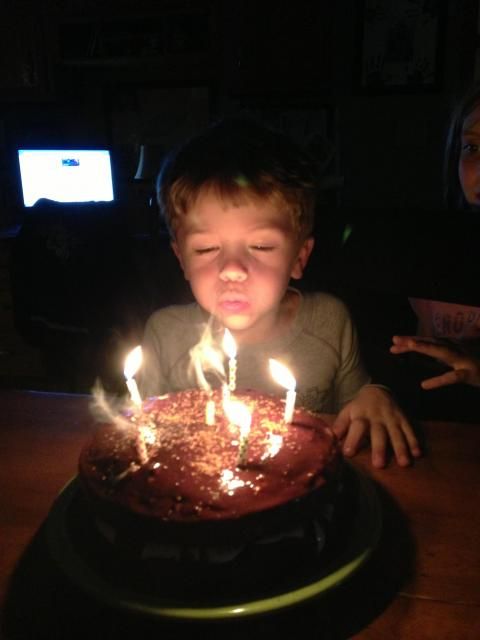 Kellan declared the cake "awesome". He has very elegant taste.

It's a good thing he insisted on having birthday cake that night, because the next day he woke up with stomach flu - from which he has just now recovered :( Fortunately he had that new Mario game to take his mind off his ailments.

My baby is SIX. It's official.


Current Mood:

happy


This was a "conversation" written by my son, Flannery, before his sophomore year in high school to a friend he'd lost suddenly. Please send light and love to my sweet son who is not well.

Love
Kerry



CONVERSATION
By Flannery Lunsford
Mrflanman: Gladys?
User smileegurlpnay is not available.
Mrflanman: Please, can you answer?
User smileegurlpnay is not available.
Mrflanman: I'm sorry.
User smileegurlpnay is not available.
Mrflanman: I can't even try to relate what I'm feeling into words.
User smileegurlpnay is not available.
Mrflanman: But then thinking of your family, your friends, Oh God, I'm sorry.
User smileegurlpnay is not available.
Mrflanman: Come on, I know you're not available. I want tell you that you brightened the room when you were there, I'm not just saying that, please don't laugh at that, and when I go to your funeral, I'll bet they'll say the same thing. You were too good for this place, I'll bet they'll say that too. This message is a bundle of cliches, but I have to say it. I know you're happy. Oh Gladys, you were the kindest person I've met at Marshall, I love you for being that, for embodying the good things in this world.
User smileegurlpnay is not available.
Mrflanman: Isn't it ironic that I found your screen-name after you left this place. I found it amongst the posts for Mr. O'Connell's class.
User smileegurlpnay is not available.
Mrflanman: Alright, if you won't talk, I will, ok? I remember when I first met you, you had transferred from Belmont, and you thought that Belmont had a better gym, but that Marshall was a way better school. I remember when you brought that Period book, a collection of stories about women and their periods, to school, and I thought it was the lamest book ever to grace this earth, and I refused to believe whatever you said about it. We argued until you refused to speak to me, because my argument was so pointless. Then when you presented that book for Mr. O'Connell's class, I was there in the back, groggy from the number of hazy presentations that had preceded yours, and then you started talking. And as I watched, everyone became interested, you always made people smile, happy, speaking eloquently, quickly, a stage presence that no one else was close to having in that class. You dissected any possible argument I could have had with the book in the first place, and as you casually mentioned with a glance in my direction that "some people just can't understand and refused to…" I knew that you had won.
User smileegurlpnay is not available.
Mrflanman: Mr. O'Connell's class, we did a lot of projects together, in the end, that disputed Antony and Cleopatra cell project didn't even count, but you still got an A.
User smileegurlpnay is not available.
Mrflanman: I'll just keep talking then. I remember when you told me that you liked Dylan, and you told me not to tell anyone, the sadness in your face behind a strained smile, and your braces, as he described your friend and him together, and how you told him to go for it, and I could feel your pain, even though he still flirted with you. I could see you think, frustrated that you hadn't tried to see him before, the lost opportunities.
User smileegurlpnay is not available.
Mrflanman: I wanted to let you know about Nick, because I remember you asking me how he was doing. He's better now, the disease, juvenile dermatamiositis, is in remission, and he's getting stronger. He's on anti-inflammatory steroids, so he's getting all these weird side effects like swelling in his face and stomach, but I think he'll be okay. I forgot to tell you that he asked about you a while ago, and wanted me to say hey to you.
User smileegurlpnay is not available
Mrflanman: I remember when you asked me if I liked a particular girl, even though you already knew, your clever remarks, despite the fact that I never had said anything about her. And your dancing, you could dance. I remember doing the sound for the Dance fiasco where you waited ten minutes for the music cue, while I fumbled, helpless in the audience. But you still pulled it off, always. I remember you said you wanted to be a teacher, you are still the only other teenager who has ever said that to me. I said, you could help my dad anytime. You wanted to teach third grade. I remember when you commented on my sister's pants when I wore them at Battle of the Bands, because you had the same jeans, Plugg Jeans, with a butterfly on its leather emblem. I can't believe we wore the same jeans.
User smileegurlpnay is not available.
Mrflanman: You know, we weren't really great friends, but we talked, and you always were the most open, sweet person to talk to. And I'm still talking to you, but I don't know what to say now.
User smileegurlpnay is not available.
Mrflanman: Come on, I'm waiting for a quick comeback, a laugh, you were so good at that. I've taken things for granted, all that time in Mr. Jeffries class, waving to you in Mr. Duncan's class as I left Mr. Wong's. I'd always pass by, and you'd be there in your desk, listening to Mr. Duncan drone on about Stoichiometry. But then I walk by, and the desk is empty, the teacher's still talking, the students still aren't listening, as you've slipped away.
User smileegurlpnay is not available.
Mrflanman: I remember my dad coming in and asking me if I knew you. I first thought that you had called, that would have been cool, Gladys calling me? But then he said that you were in a car accident. I didn't really know what to say, I called Dylan, he seemed empty, like an old wind up toy, that's been wound up too many times, and just falls over. I haven't been able to sleep. This is selfish now, but I had to write this, because Gladys' don't come around too often, and I guess you have to embrace them while you can, or they'll slip away to a better place.
User smileegurlpnay is not available.
Mrflanman: Ok, goodnight Gladys.
Mrflanman has signed off at 2:16:43 AM.
These three kittens go up for adoption today.
1. The animal shelter where I volunteer has a bake and plant sale tomorrow, so I'm baking this morning.
We have a group of kittens going up for adoption this morning, too. Three litters of kittens were found in a plastic tote and brought to us a week ago. The story was on all our local TV stations, and lots of people have inquired about the cats and kittens. So when I drop off my donations to the sale, I think it will be a busy place!
2. I'm off to South Carolina on Monday for several days of school visits.
I'm bringing the South Carolina Picture Book Award medal for
Hot Rod Hamster
with me to show the kids.
3. It's exciting to see my garden coming to life again.
The rhubarb looks very happy where I planted it. :-)
4. My critique partners and I have rented a cottage on a lake for 5 days in June to do some writing
. I'm looking forward to getting back to writing. I have revisions on an early reader and a chapter book to do, and I assume I'll see First Pass pages for
Half a Chance
soon. I also want to draft a new middle-grade novel this summer. I have no idea yet what that novel will be about, but I'm anxious to find out.
5. Maine has officially flipped the switch from mud season to GORGEOUS.
Everything is really beautiful now. Here are two of my local public libraries.
Curtis Memorial Library, Brunswick, Maine. Photo by my husband, John



Patten Free Library, Bath, Maine. Photo by my husband, John
Current Mood:

content
Originally published at Kimberly Sabatini. You can comment here or there.
Yesterday was gorgeous!!! The most perfect weather ever. So I spent the day outside putting in my vegetable garden and starting a butterfly garden. I used to have one and it didn't make it through the installation of the retaining wall and last year I missed my one gardening window (not too hot, not too buggy) plus the whole impending debut book launch thingy kept me preoccupied. So needless to say–the butterflies got the shaft last year. But this year, not only did I run across the most perfect spring day that just made me want to plant a vacation paradise for butterflies, but my fabulous nephew has been doing some yard work to help me get ready to put the house on the market. This means…I get to pick the flowers and plant them and tomorrow he will do all the unpleasant bed weeding and mulching around my creation. *sigh* Everyone should have a fabulous nephew. <3
But acting like Martha Stewart all day has left me with the need to shower and get acquainted with my couch this evening. Because of this, I have decided to enlist all of you with the job of blog-post-deep-thinking. Of course, there has to be a pay off for you firing your brain cells so mine can rest. So, as a reward for being creative and funny, (myself and the mystery judges) will pick one lucky winner to get a signed copy of TOUCHING THE SURFACE. Keep it for yourself, donate it to the library or use it as a gift. Just get it in the hands of a reader. How to win?  Write a caption for this picture in the comments and you will be entered. Every caption is a separate entry. And just so you know, the cat in the picture is named Beans. This contest is open internationally. Have fun.
Julia and I had arrived on Friday evening, so we'd had the weekend to explore Lima before starting work on Monday. On Saturday, John took us to two museums, including the beautiful Museo Larco, and introduced us to Pisco, the Peruvian national beverage. Sunday, we shopped the Indian markets and had dinner at Huanca Pucllana, a restaurant that overlooks an archaeological site that's dramatically lit at night.
I'm awaiting photos from the school; in the meantime, a few photos from our first days:
Greeting visitors at the Museo Larco: a Peruvian Hairless dog, a native breed. Never seen anything like it!
The ruins at Huanca Pucllana in Lima.
At the Huanca Pucllana restaurant, assorted appetizers. In the foreground, chicharrons de cuy. Cuy is one of Peru's most famous dishes. (Look it up...)
In the library at Colegio Roosevelt, pointing to the photo of previous visiting author Laurie Halse Anderson.
On the way from the Cusco airport to the Sacred Valley:
Llama llama woolly mama!
Julia and baby llamas.
It's difficult to post photos from here, so I'll probably wait until I get home to post more. And there *will* be more.... This is truly an amazing place.
On Tuesday I finished a two-day visit at Colegio Roosevelt, the American international school in Lima. Librarian John Kurtenbach arranged a great schedule for myself and author Julia Durango, who's traveling with me. Julia saw the pre-K/K classes and did a joint presentation with me to grades 1-2. I saw grades 3-8. Attentive and enthusiastic audiences. A special shout-out to the Grade 6 group (which included a couple classes of 7th graders), all of whom read A LONG WALK TO WATER--they were my final presentation and a terrific finish to my time at the school.